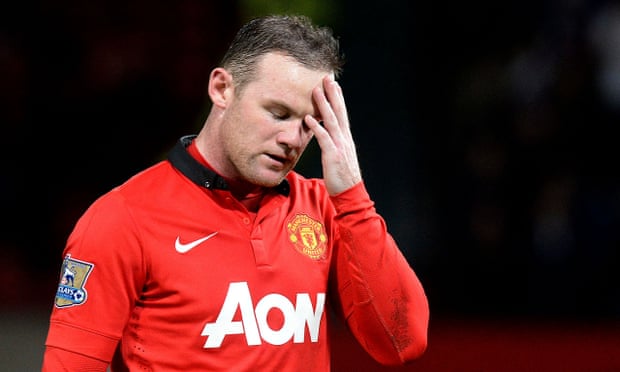 When Wayne Rooney joined Manchester United back in 2004 he was seen as the future of Manchester United. Eleven years later and after some great seasons and some not so great seasons it seems that he is still regarded as their top marksman. Rooney has now turned thirty and he is playing the poorest he has ever looked while playing for not only Manchester United but also for England, with many pundits and experts calling him to be dropped by his national team. Having recently broken the goal record for England scoring 50 goals and also setting his sights on Manchester United's goal record both held by Sir Bobby Charlton, the real issue would be should he be given such a chance to do right now.
The media and critics have been out to get Rooney for the last number of years now, but it seems this season the justification for dropping such a high profile name and club captain Rooney would be the best course of action by the club. Against Everton at Goodison Park, Wayne Rooney scored his first Premier League goal away from Old Trafford for 11 months; this is not the sort of form that a club especially of Manchester United's stature would expect from their striker. A record this season of two goals in the Premier League surely cannot go on for the club, especially as they are sacrificing Anthony Martial from playing in his favoured position which is in the striker position and doing a job on the left side of midfield. Rooney has been a great servant to the club and has given the Manchester United fans some tremendous memories but right now and looking forward his reputation could be tarnished unless he takes himself out of the limelight and drops further back on the pitch. Playing centre midfield is not beyond Rooney and is a position he can play but still needs to learn, but to prolong his career he needs to make this move on the pitch sooner rather than later.
Playing in the number 10 role behind a striker is the position many fans and pundits would consider to be his best and most preferred position, however when he has played there this season his impact is less than satisfactory. The attacking play is slowed down when Rooney plays in this position and that ability he used to have of a quick burst in between the lines looks to be lost. While playing in the main striker position which he currently is he also looks lacklustre, dropping too deep to get involved in the play and his movement off the ball is not sharp enough. Manchester United has been getting results no doubt this season but this is not of the effect of Wayne Rooney in this team. The main problem the club has and Louis Van Gaal has, is the media attention that would be drawn in if Wayne Rooney was to be dropped. Many would consider Rooney to still be the main man at Old Trafford but these numbers also seem to be decreasing. The profile of the player is what is keeping Rooney in the Manchester United first team; in the ten Premier League games thus far Rooney has started nine of these and has not been substituted in any of the games, while missing one game through injury. This is without a doubt un-justified, he is the club captain and he may have a big impact on the team off the pitch, but he is not performing on the pitch.
When looking at the names sitting on the bench in recent games, Memphis Depay, Daley Blind, Ashley Young, Juan Mata, Michael Carrick and Matteo Darmian, surely these guys are thinking and analysing as to why they are sitting there when such players especially Wayne Rooney are on the pitch. Van Gaal has his philosophy and is a stubborn manager but it comes a time when you have to accept that you have got it wrong. Manchester United need to drop Rooney and get Martial linked up with Mata and Herrera and they could look an even better team, otherwise the talk of the form of Wayne Rooney will continue all season.